CFL Introduction
The introduction and delivery of NOFFS to Sailors is multi-tiered and will provide a firm background for the program to build upon.
Athletes' Performance Institute (API) developed the methodology for the Navy.
API trained more than 100 Navy MWR Fitness professionals across the Navy. In the near future, each installation will have a certified NOFFS instructor.
Navy Fitness professionals will utilize the knowledge gained from API to deliver the NOFFS program to CFL/ACFLs at each command. These individuals will then stand as a ready resource to the CFL/ACFLs for questions and implementation tools.
Once the CFL/ACFLs have attended a scheduled NOFFS course at their installations, they will have the ability to effectively and safely train other Sailors within their command.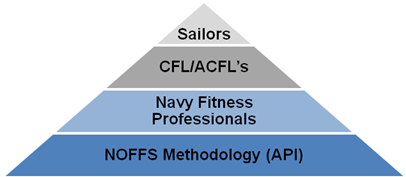 To schedule your opportunity to learn more about NOFFS, contact your local fitness professional by clicking HERE.