NOFFS Regeneration Series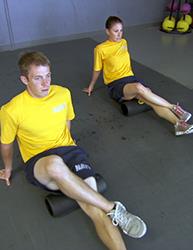 As a progression to the current 'Operational Series', the Navy and Athletes' Performance Institute (API) partnered to develop three new workout series, The Strength Series, The Endurance Series, and The Sandbag Training Series, to provide the Sailor a workout specific enough to meet their individual performance requirements and special interests. In addition to the new fitness series', The Regeneration Series helps facilitate recovery and assist Sailors with mitigating nagging aches and pains. Each series is accompanied by a fueling strategy and options for scheduling workouts that accommodate the user's schedule. Each series provides various options for workout schedule, duration, equipment, recovery and optimal fueling.
The Regeneration Series helps facilitate recovery, which is a critical component to any training program. This helps bring balance back to the body and enhance the body's response to the training stimulus. Movements in these sessions focus on soft tissue release utilizing a foam roll and trigger point ball, as well as flexibility routines. These strategies will help you re-establish the length and tension of your muscles, break up knots, reduce stiffness, and increase circulation to flush your system and re-energize your body.